national_packet_update_apr_23
Table of Contents
National Packet Update - April 2023
Introduction
Welcome to the National Packet Update, where we document the progress made in increasing packet radio activity in the UK and Ireland and our aspirations to re-build a useable packet radio network.
It's been another busy month for packet radio, with more people getting involved, new nodes popping up, and more viable RF paths being discovered. To keep things synchronised at a slightly lower pace a new UK Packet Radio mailing list has been created on groups.io. In its first week it's gained 80 new members which is impressive, and includes several people that have contributed to packet radio software, ran nodes in the past, or both.
Progress
Packet coverage in and around East London has been improved with Tom M0LTE installing MB7NGP at Gilwell Park. MB7NGP is a NET/ROM enabled node using the native Linux AX.25 implementation and a NinoTNC. Tom's also hooked up the TNCs configuration DIP switches to the GPIOs in a Raspberry Pi allowing him to make changes remotely. Nice! Matthew 2E0SIP in Watford and JJ G6VZM in Ealing have been able to chat over 1200 baud packet. Matthew and Simon M0GZP have also performed some voice tests on 2M FM with a view of connecting via packet in the future.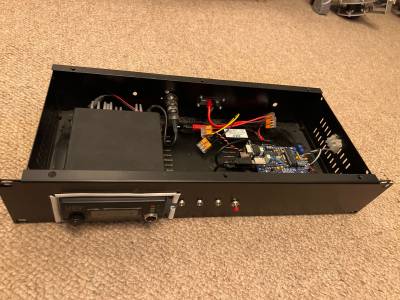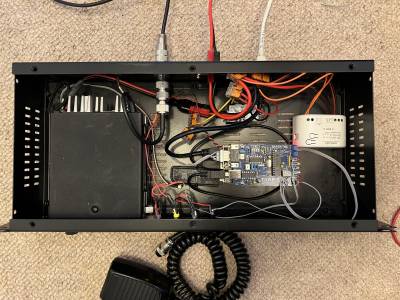 <center> MB7NGP, now operational from Gilwel Park in East London </center>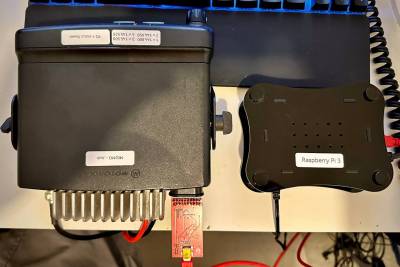 <center> Josh M0JMO's Packet Setup, featuring a GM340 and "Dingle Bop" sound interface designed by DF2ET. </center>
Activity in the South West around Bristol and Bath is gaining momentum, with several users testing links and experimenting. Simon 2E0RLZ was able to connect from his QTH near Bath to the chat room on GB7RDG (Reading) via Kevin G7BCS in Alton, a single hop of over 50 miles which has proven to be reliable. John G4OTJ has applied for a NoV for a new node based in Farmborough, South West of Bath. Kevin M0AHN is also experimenting and exploring linking the South West to Oxfordshire.
Another pocket of activity has popped up in South Oxfordshire and Buckinghamshire, with Josh M0JMO, Martin G6FJI, Matt M0DQW, and Vic G0RAS playing with packet and testing if they can join things up. Josh M0JMO is hoping to apply for an NoV for a permanent node in Cholsey once hardware testing and configurating is complete. Matt M0DQW has also dusted off an old PacComm Tiny-2 and demonstrated connecting to a local BBS on Youtube
In Scotland, Hibby MM0RFN has completed a NinoTNC build and has been testing two nodes on the bench with a view to putting up a node near Aberdeen.
In Ireland a couple of stations that are hopefully in range of each other have started to take the first steps to build packet stations and test communications between each other.
Next Steps
This is a non-exhaustive list of some of the things we're hoping to achieve in the near future.
Create a proposal for a node that could be deployed at a remote site. Ideally something repeatable, that wouldn't look out of place at a commercial site.

Create an image or installation script to simplify creating a packet node.

Discuss and standardise NET/ROM config options to increase reliability and understanding of things like quality metrics.

Come up with a new idea or modification to improve network self-healing when nodes go up and down.

Continue to add new nodes and links to the network.

Experiment and have fun!
How to get involved
See

https://packet.oarc.uk

for further information, tutorials etc. [As with this project, this page is a work in progress!]

Build a node and get it on the air, or see if you can hit any of the existing nodes

Look out for future updates to see how things are progressing
national_packet_update_apr_23.txt · Last modified: 2023/04/02 17:22 by 2e0sip
---