Table of Contents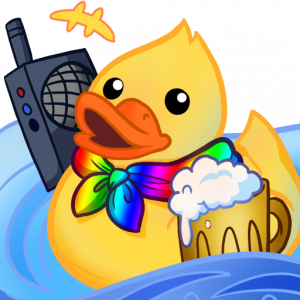 Next Event
Next Pub Meet: 1st and 3rd Saturday of the month. Subject to change but check the #rubber-duck-pub channel for info. Typically starting at 8pm (UK local) until Late
Click here to Join the Discord Server
At Online ARC we like to let out hair down regularly and due to distance and the pandemic we've setup our own Virtual Pub nights. You can choose to drink alcoholic (beer, wine, cocktails, spirits, etc) or non alcoholic drinks (tea, coffee, hot chocolate, fizzy drinks, etc) during the event.
You are invited to The Rubber Duck Pub (Virtual) on the 1st and 3rd Saturday each month from 8pm until late.
Links will be supplied in Discord #the-rubber-duck-pub channel for Zoom. Pub nights are not usually recorded.
Whilst we try to explain what the pub night is like, it's best to visit and see what Random we get up to.
Havoc's (2E0EMO) attempt at explain what is pub night
Hosted virtually on Zoom

Chill out, talk radio, talk about anything

A random amount of spamming in #the-rubber-duck-pub

We use Sync Tube as a juke box. Feel free to add music to it. Attendees often find new music to listen to

Random games including word bingo

A pretty laid back group

Bit like a club meet up but less cliquey. We love and welcome everyone

Before 10pm SFW after well we can not promises it will not be.

Hosted normally on Saturday 8pm but link can be posted before hand if you want to get technical with OBS.
Rules
Sorry, but we felt we needed a few
Silly Questions? No such thing. Come and ask. We do however reserve right to give a silly answer.

Use of Radio during Pub meets is encouraged, but if using Voice please remember to mute your mic.

Use of OBS Studio/Streamlabs OBS, etc is allowed

Please don't repost Zoom links publicly outside the Online ARC Discord Server.

You may however send privately to people you know.

Try not to speak over other people in the chat

Be aware there are sometimes slight delays on Zoom which may cause this.

Make sure to let everyone have a say, and not to dominate the conversation.

Please try keep anything that might be inappropriate for after 10pm.

Don't be a Dick, be a Duck
Please note, Non of the team behind the pub will accept any abuse towards each other. This is a space that office style banter is accepted but bullying is not. Paul M0TZO and Havoc (Mitchell) 2E0EMO do reserve the right to kick anyone who is not keeping with the sprit of the community. If at any time you feel unhappy please message us on discord via PM or via the Zoom chat feature. We can normally sort out issues but other community reps are unlikely to be able to help during pub night.
Past Topics
Amateur Radio
Talk on Linear PSUs

GM6NX

Repeaters

Digital Voice Modes

Mag Loop Antennas

FT8 & JS8call

Isotron Antennas

APRS

LiFePo4 Batteries

Famous Hams

Morse / CW

Droidstar / Dudestar

DMR

Using Fish names for Phonetics (eg Oldwife Albacore Ronquil Cisco)

Pokémon names

Satellites and AMSAT

Interference
Other Topics
Pub Quiz (evil)

Cats

Reddit

Campanology

Raspberry Pi board

How to Pronounce Pi - Is it Pie or P. I.?

Royalty & democracies

Recycling

Old Phone Networks

LGBT
Other Amateur Radio Clubs (OARC)
Previous Meetings
Friday 4th of September 2020 8pm

Friday 2nd October 2020 8pm (Discord)

Friday 6th November 2020 8pm

Saturday 21st November 2020 8pm

Friday 4th December 2020 8pm

Saturday 19th December 2020 8pm

Friday 1st January 2021 8pm

Saturday 9th January 2021 8pm (17 people)

Saturday 16th January 2021 8pm (11 people)

Saturday 23rd January 2021 8pm (12 people)

Saturday 30th January 2021 8pm (12 people)

Friday 5th February 2021 8pm (8 people)

Saturday 13th March 2021 8pm

Then every Saturday until… Saturday 29th May 2021

Friday 4th June 2021 8pm

Saturday 19th June 2021 8pm
rubberduckpub.txt · Last modified: 2023/06/15 13:57 by m0tzo
---